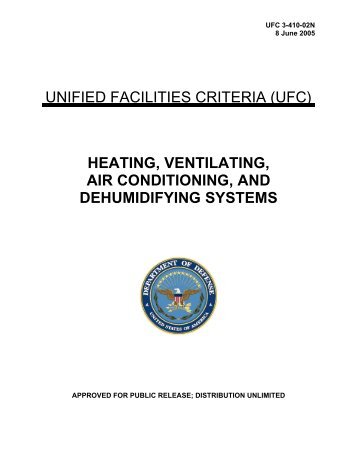 File Size: 1.32 mb
Description
This UFC provides requirements and guidance in the design of heating, ventilating, and air conditioning (HVAC) systems, together with the criteria for selecting HVAC materials and equipment.
Policy and criteria included in this handbook are provided to ensure quality and consistency in design of HVAC and dehumidifying systems with minimum life cycle costs which satisfy functional and operational requirements of Naval facilities and which provide a healthy and safe environment for facility occupants.
Design of HVAC and dehumidifying systems shall be in accordance with guidelines included in this handbook. The material included in Sections 5 through 12 of this handbook is provided for information and should be applied only as required to supplement the experience of the designer or design reviewer. NAVFAC policy is to select simple, easy to maintain and operate, HVAC systems designed based upon well established principles and constructed of proven materials that satisfy space temperature, humidity, and indoor air quality (IAQ) requirements within energy budgets prescribed in MIL-HDBK-1190, Facility Planning and Design Guide.
Content:-
Section 1: INTRODUCTION
Section 2: GENERAL
Section 3: APPLICATIONS
Section 4: INFORMATION REQUIRED ON DRAWINGS
Section 5: LOAD CALCULATIONS
Section 6: AIR DISTRIBUTION
Section 7: PIPING SYSTEMS
Section 8: CONTROLS AND INSTRUMENTATION
Section 9: EQUIPMENT LOCATION
Section 10: FUNDAMENTAL DRAWING DETAILS
Section 11: RULES OF THUMB GUIDANCE
Section 12: FIRE PROTECTION AND SMOKE CONTROL
APPENDIX A Energy Conservation Methods
APPENDIX B Engineered Smoke Control Systems
APPENDIX C Design Do's and Don'ts VAV Systems
APPENDIX D Variable Speed Drives (VFD's)
REFERENCES
GLOSSARY