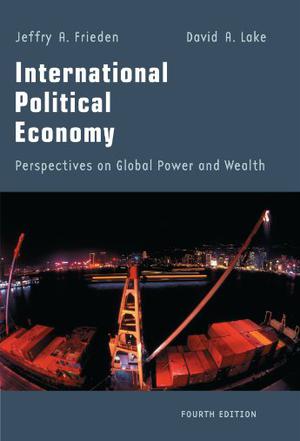 The readings in International Political Economy: Perspectives on Global Power and Wealth are primarily intended to introduce the study of international political economy to those with little or no prior knowledge of it. The book is designed for use in courses in international political economy, international relations, and international economics. The selections present both clear and identifiable theoretical arguments and important substantive material. Fifteen of the 31 articles are new to this fourth edition of our book, and the theoretical approach has been updated to reflect the changing state of both the world and the field of international political economy.
Although the selections can be read in any order, they are grouped in seven parts, which reflect some of the more common organizing principles used in international political economy courses. Each part begins with an introduction bothe editors that provides background information and highlights issues raised in the readings. Each reading is preceded by an abstract summarizing its specific arguments and contributions. The readings were edited to eliminate extraneous or dated information, and most footnotes were removed.
Introduction: International Politics and International Economics
I:- CONTENDING PERSPECTIVES ON INTERNATIONAL
1 State Power and the Structure of International Trade
2 The Political Economy Of The Soot-Hawley Tariff
3 Institutions and Economic Growth: A Historical Introduction
4 States, Firms, and Diplomacy
II:- HISTORICAL PERSPECTIVES
5 The Rise of Free Trade in Western Europe
6 International Trade, Domestic Coalitions, and Liberty: Comparative Responses to the Crisis of 1873–1896
7 International Investment and Colonial Control: A New Interpretation
8 British and American Hegemony Compared: Lessons for the Current Era of Decline
9 The Multinational Enterprise as an Economic Organization
10 Third World Governments and Multinational Corporations: Dynamics of Host's Bargaining Power
11 "A New Imperial System"? The Role of the Multinational Corporations Reconsidered
12 Strategic Trade and Investment Policies: Implications for the Study of International Political Economy
13 The Domestic Politics of International Monetary Order: The Gold Standard
14 Hegemonic Stability Theories of the International Monetary System
15 The Triad and the Unholy Trinity: Problems of International Monetary Cooperation
16 Exchange Rate Politics
17 EMU: Why and How It Might Happen
18 The Obsolescence of Capital Controls?
Economic Management in an Age of Global Markets
V:- TRADE
19 Protectionist Trade Policies: A Survey of Theory, Evidence, and Rationale
20 Commerce and Coalitions: How Trade Affects Domestic Political Alignments
21 The Political Economy of Trading States: Factor Specificity, Collective Action Problems,
and Domestic Political Institutions
22 Are Your Wages Set in Beijing?
23 The Political Economy of Nontariff Barriers: A Cross-national Analysis
24 Explaining Business Support for Regional Trade Agreements
VI:- ECONOMIES IN DEVELOPMENT AND TRANSITION
25 International Development: Is It Possible?
26 Development: The Market Is Not Enough
27 Globalization and Inequality, Past and Present
28 Inflation and Stabilization
VII:- CURRENT PROBLEMS IN INTERNATIONAL
29 Environmental Protection and Free Trade: Are They Mutually Exclusive?
30 Globalization and the Changing Logic of Collective Action
31 Sense and Nonsense in the Globalization Debate
"
Jeffry A.Frieden" (Ph.D., Columbia University) is professor of government at
Harvard University. He specializes in the political economy of international monetary and financial relations. His book publications include Debt, Development, and Democracy: Modern Political Economy and Latin America, 1965–1985 (Princeton: Princeton University Press, 1991) and Banking on the World.
"David A.Lake" (Ph.D., Cornell University) is professor of political science at the University of California, San Diego, and coeditor of the journal International Organization. He has published widely in the field of international relations and international political economy. His principal book publications include Power, Protection, and Free Trade: International Sources of U.S.