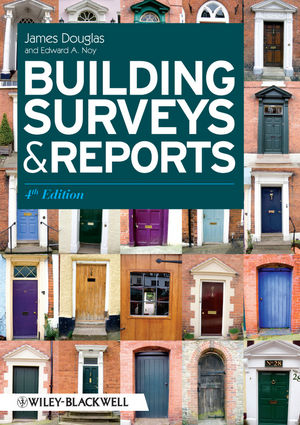 File Size: 3.60 mb
Description
This book provides guidance on building survey work for typical residential, commercial and industrial buildings, with advice on how to diagnose a wide range of defects. It considers both modern and older construction methods, together with new and traditional materials. The particular problems of alteration and renovation work are discussed, with guidance on how to carry out measured surveys.
A separate chapter covers survey problems after flood and fire damage, and the legal section takes account of recent developments in case law relating to inspections and surveys of properties.
This new edition continues to provide a thorough treatment of all the key issues relating to surveying buildings, dealing with the problems that surveyors are likely to encounter when inspecting buildings.
Changes for the new edition include:
Examples and references have been updated
Evaluation of condition rating systems for domestic and commercial buildings
A new section on the home condition reports
More information on slate defects
Bibliography revised and expanded, to make it more comprehensive
Additional appendix showing the home condition report format
Content:-
Preface to Fourth Edition
Acknowledgements
1. General Principles and Responsibilities
2. Procedure and Equipment
3. Measurement of Existing Buildings
4. Surveys of Historic Buildings
5. Foundation Failures
6. Defective Walls and Partitions Above Ground
7. Reinforced Concrete, Cladding Materials and Structural Steelwork
8. Damp Penetration and Condensation
9. Timber Decay and Insect Attack
10. Roof Structures and Coverings
11. Fireplaces, Flues and Chimney Stacks
12. Timber Upper Floors, Floor Coverings, Staircases and Ladders
13. Finishes and Joinery Externally and Internally
14. Services
15. External Works
16. Fire and Flood Damage
17. Report Writing
18. Legal Aspects
Appendices
Appendix I Definitions of Inspections and Surveys of Buildings (CIC Explanatory Leaflet)
Appendix II Sample Extracts of Survey Schedules & Checklists
Appendix III Checklist for Property and Site Surveys
Appendix IV Checklist for Building Surveys
Appendix V Surveying Safely (Based on RICS 2004)
Appendix VI Report on Roof Defects (Village Hall)
Appendix VII Report on Property to be Purchased
Appendix VIII Glossary of Building Inspection and Related Terms
Bibliography
Index
Author Details
"James Douglas" is a lecturer in building surveying at Heriot-Watt University, Edinburgh, teaching mainly building pathology and refurbishment. He is a qualified chartered building surveyor with many years public sector experience dealing primarily with maintenance and adaptation, as well as the inspection and surveying of buildings, particularly for dampness problems.