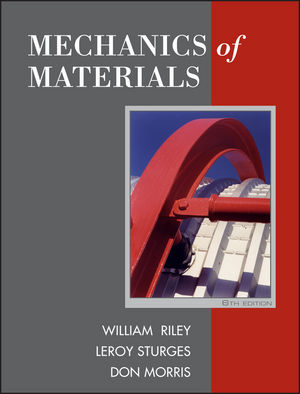 File Size: 82.33 mb
Description
A clear and thorough guide, with a strong problem-solving methodology In this 6th edition of "Mechanics of Materials," Riley, Sturges, and Morris continue to provide a clear and thorough treatment of stress, strain, and stress-strain relationships, as well as axial loading, torsion, flexure, and buckling. Throughout the text, they emphasize fundamental principles, with numerous applications to demonstrate and develop logical, orderly methods of analysis.
The authors equip students with an effective problem-solving methodology. They encourage students to draw free body diagrams whenever they write an equation of equilibrium, reduce problems to a series of simpler component problems, and present results in a clear manner. Now revised, this Sixth Edition features many new examples and homework problems, a consistent sign convention for internal forces, expanded and improved discussion of the stress element, and new sections on combined loading.
Content:-
Chapter 1: Introduction and Review of Statics
Chapter 2: Analysis of Stress: Concepts and Definitions
Chapter 3: Analysis of Strain: Concepts and Definitions
Chapter 4: Material Properties and Stress-Strain Relationships
Chapter 5: Axial Loading Applications and Pressure Vessels
Chapter 6: Torsional Loading of Shafts
Chapter 7: Flexural Loading: Stresses in Beams

Chapter 8: Flexural Loading: Beam Deflections
Chapter 9: Columns
Chapter 10 : Energy Methods and Theories of Failure
Author Details
"WILLIAM F. RILEY"

"LEROY D. STURGES"
Associate Professor
Aerospace Engineering and Engineering Mechanics
Iowa State University
"DON H. MORRIS"
Professor Emeritus
Engineering Science and Mechanics
Virginia Polytechnic Institute and State University
You May Also Like:-